This bounty campaign will last for 4 weeks.
BTCC team is offering 20 Million of the Total Token Supply for the Bounty and Airdrop which are equal to 10K ETH!

Click here to go INVEST!

The presale is LIVE. The ICO will start May 15, 2018.
Bounty Allocation

• Signature Bounty : 15%
• Twitter Bounty : 10%
• Telegram Bounty : 10%
• Facebook Bounty : 10%
• Translation and Moderation Campaign : 20%
• Media Bounty (Youtube, Blog) : 20%
• Others : 15%

General Rules

• All token Allocation will take place after the ICO. The balance list will be available 24/7 on Spreadsheet.
• Bounty starts May 1, 2018
• For any questions regarding the bounty campaign, you can contact us our bounty manager on telegram https://t.me/btccadmin or send him message here on forum
• We reserve our right to eliminate you if we think you haven't been honest with your work.
• We reserve our right to change bounty campaign rules at any given time.
Bitcoin Crown is introducing BTCC a new cryptocurrency (ERC-20 Token) and smart contract platform that gives game developers, content creators and gaming communities the required crypto-backed value and tools for implementing and managing virtual goods. The Bitcoin Crown platform will have full support for these tokens in the next 6 months.
Bitcoin Crown will develop a powerful framework of open-source software development kits (SDKs), wallets, game plugins, virtual item management apps and a payment gateway platform.
Token Information
Name: Bitcoin Crown (BTCC)
What is Bitcoin Crown?
Bitcoin Crown is a cryptocurrency designed for lovers of online games.
Total Supply: 70,000,000 Token BTCC
Total Allocation: 50.000.000 Token BTCC
Hard Cap: $ 10,000,000 USD
Soft Cap: $ 2,500,000 USD
Currency: ETH
Smart Contract: 0xc0c05862cca68b0b4c806796a6e7d965a6f18095
Spend Allocation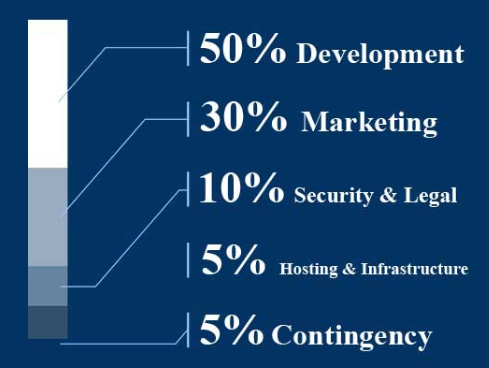 BTCC Token Allocation

Only 70 Million BTCC tokens will ever be created. Among them 20 Million will be send as bonus tokens. The BTCC tokens are intended to be allocated as follows:
60% (30,000,000) to be sold by BTCC to Crowdsale purchasers minus any bonuses applied in the Crowdsale Period.
20% (10,000,000) reserved by the Company to incentivize community, beta testers, marketing and strategic partners.
20% (10,000,000) to be distributed by the Company to the BTCC Coin Team and Advisors.
Unsold Tokens & Team Vesting
● Any unsold tokens in Crowdsale will be burned.
● Team tokens are locked for the first 6 months, and will be vested over a period of 24 months total. Team members will be transferred 25% of their tokens after 6 months, and then 12.5% every 3 months afterward. The team list may be updated during the 24 month vesting period.
● Advisor tokens are locked for 2 months and distributed fully.
Crowdsale Start and End Date
The crowdsale will begin at 5 a.m. PDT March 25, 2018 (the "Launch Date") and end at 11:59 p.m.
PDT on April 30, 2018 or when sold out.
Roadmap
April 2018 BTCC Token Crowdsale
http://www.bitcoincrowncoin.com
Q2 2018 Core Smart Contracts
Platform API
Mobile Smart Wallet (Core features)
Minecraft Plugin
Java SDK
Q3 2018 C# SDK
Unity SDK
Unturned Plugin
Mobile Smart Wallet Updates
PC Smart Wallet
BTCC Store Modules
BTCC Automations
BTCC Forum Integration
Token Manager
Q4 2018 Unreal Development Kit
iOS Swift SDK
Android SDK
Virtual Item Trading System
PHP SDK
Q1 2019 BTCC Mobile App
Payment Gateway Contract
Payment Gateway Framework
Q2 2019 Subscriptions
TopList Contract & UI
BTCC Coin Community App
Team
The Executive Team

ICO Advisors

Technology Team

For more information, please visit:
Website:
http://www.bitcoincrowncoin.com/
Whitepaper:
http://www.bitcoincrowncoin.com/legal/white%20paper.pdf
Ann Thread:
https://bitcointalk.org/index.php?topic=3194641
Twitter:
https://twitter.com/BtcCrown
Facebook:
https://www.facebook.com/BitCoinCrownofficial
Telegram:
https://t.me/bitcoincrown
Bitcointalk profile link:
https://bitcointalk.org/index.php?action=profile;u=1930778
---